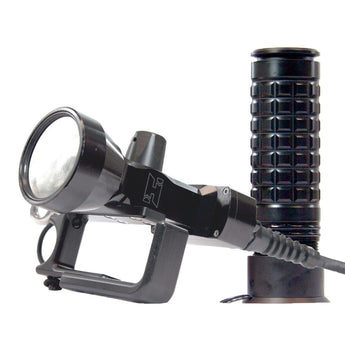 Halcyon Focus 5.2A Standard Light
SDD: 6645
MPN: 20.453.010
Regular price $1,357.00 Sale
The Halcyon Focus offers an adjustable beam to switch between intense focus or a wide beam for underwater video purposes.
After 3 years of development, Halcyon is setting the standard for primary dive lights again.
LED is difficult to focus. Instead of pushing a lot of power to the LED, which is inefficient and generates a lot of heat, Halcyon invested time and resources in developing a lux engine, generating a high intensity, focused beam, while consuming half of the power of 21 watt HID lights.
With more of the light focused into a tighter location, Halcyon LED primary lights easily outperform 21 watt HID lights.Both Focus and Flare lights have a fully adjustable handle, which can be set to left or right hand operation. The adjustable power switch can be set to off, medium, or high power.
5 hours run-time with a 5.2 amp-hour battery pack (Focus and Flare Handheld gets 2.5 hours with a 2.6 amp-hour battery)
adjustable-focus beam (Halcyon Focus only)
fully adjustable handle
39,000 lux at 1 meter (Focus at max. power)
weight is only 1.4 Kg
choice of traditional continuous cord or underwater quick disconnect (E/O) cord for the Focus and Flare