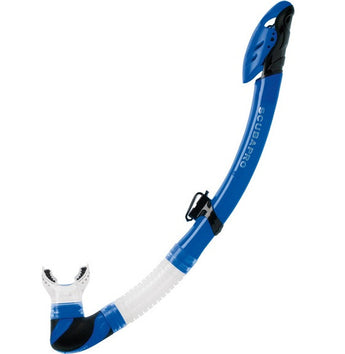 SCUBAPRO Laguna 2 Snorkel
SDD: 532
MPN: 26.506.210
Regular price $55.00 Sale
This lightweight LAGUNA 2 features an ergonomic mouthpiece that eliminates jaw fatigue when snorkeling long distances. It also features a flexible, corrugated lower section that is easy to use and drops away from the face when not needed.

But what puts the LAGUNA 2 head-and-shoulders above many other snorkels is its proprietary dry valve on the top of the barrel that immediately closes upon contact with water. This makes it incredibly easy to get a full breath of air immediately upon returning to the surface after a freedive descent. It also keeps water splashes out of the barrel when surface swimming.

On the lower end of the LAGUNA 2 you'll find a very efficient self-draining purge valve that makes quick work of dispelling any water drops that manage to find their way inside the snorkel. Put this lower purge together with the dry top and get ready for continuous dry breathing when out snorkeling or when surface swimming after a dive.
Technical Information


    Lightweight design and ergonomic mouthpiece eliminate jaw fatigue when snorkeling long distances.
    Dry-top valve automatically closes upon water contact.
    Large one-way lower purge takes care of any water that might seep into the barrel.
    Flexible, corrugated lower section is easy to use and drops away from the face when not needed.
    Quick-connect clip makes it easy to attach or remove snorkel from mask strap.