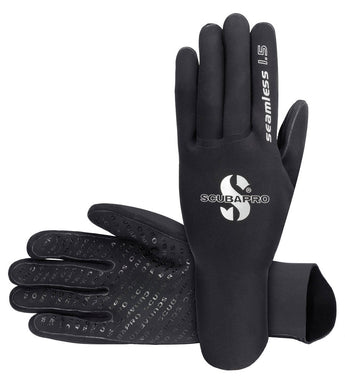 SCUBAPRO Seamless Glove - 1.5mm 58.000
SDD: 7134
MPN: 58.000.100
Regular price $54.00 Sale
Lightweight and Flexible Hand Warmer
Using heat taping instead of traditional stitching transforms the lightweight SEAMLESS 1.5MM GLOVE into an extremely soft, flexible and tactile hand-warmer.
By eliminating the stitching you gain in dexterity in the fingers, making it much easier to push dive computer buttons and handle gear at depth.
The printed palm is soft while providing a good non-slip surface for easy gripping.
Heat-taped seams create a totally lightweight and comfortable glove.
Printed palm provides a non-slip surface for maintaining a secure grip.
Palm material is not coarse so will not scratch your face when brushing hair away to make a mask seal.
Ultra-flexible neoprene makes easy work of donning and doffing.
We have local customers who use this in our colder waters for the fine fit and dexterity these gloves offer.  Please note this is a thin glove and does not provide as much insulation as thicker gloves.