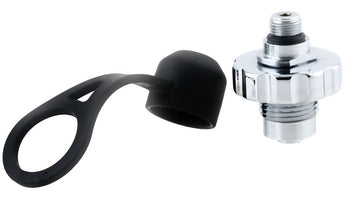 Sherwood DIN Conversion Kit for SR1 & SR2 Regulator
SDD: 2700
MPN: SAA5400
Regular price $110.00 Sale
Sherwood 300 Bar DIN conversion
You started diving with yoke style cylinder valves, but you feel the higher cylinder pressure available with DIN cylinders will be an advantage to your style of diving.  This kit will allow you to do just that, shed the yoke and increase bottom time with this 300 bar DIN conversion kit. Not every dive location has the standard yoke connection on cylinders. Be prepared to dive around the world with this DIN conversion kit for your SR1 regulator.
Simple to install
Use with Higher Pressure Cylinders
300 bar DIN
Marine Grade Chrome Plated Brass Construction
A great addition to your save-a-dive kit if you're a world traveling diver
Please contact an authorized service representative for installation or bring your reg into the shop.