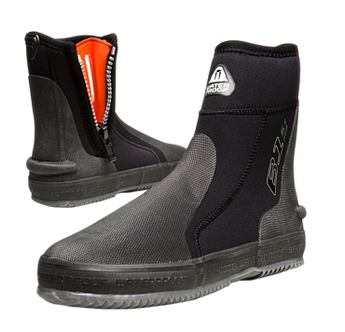 Waterproof 6.5mm Boots
SDD: 8596
MPN: 107020 WP-B1-2XS
Regular price $85.00 Sale
Waterproof B1 6.5mm Booties
This is a tough 6.5mm semi-dry boot with an extra long zipper for easy donning.
The heels and toes are strengthened and the boot has an angled design for less stress while finning.

• Angled footbed for less strain • 3-D shaped • 6.5mm Neoprene • Fin strap ridge • Glideskin seal • Extra long YKK Vislon zipper • Zipper, gusset and waterproofed • Rubber caps at heels and toes • HexTex Inner lining • BootGrip for easy donning • Bonded Hi-Q Nylon thread • ID-Plate • Zipper puller

Sizes: XXS, XS, S, M, ML, L, XL, XXL, 3XL

Hypothermia vs Boots. The body reacts to cold and heat by adjusting the blood stream to the external parts of the body, like hands, fingers and feet. Any water temperature lower than the body temp will during the time of the dive affect your core temperature. Do not under-dress your feet. Keeping the feet warm is an old true formula against coldness.