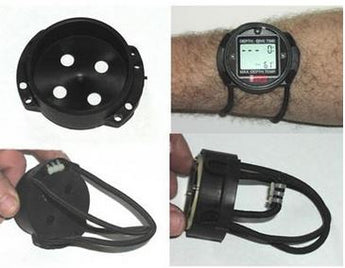 DSS Bungee Ready Mount for Uwatec Digital, Aladin Tec/Tec2G, Aladin 2G, Prime, Subgear XP10
SDD: 5872
MPN: 61004
Regular price $12.00 Sale
DSS mount for Uwatec Digital, Aladin Tec/Tec2G, Aladin 2G, Prime, Subgear XP10
This replacement mount is lower profile, and is designed to accept 1/8 in. to 3/16 in. diameter Bungee Cord. Bungee Cord mounted gauges are far easier to don than Buckled straps, and are depth compensating.

Bungee cord sold separately.
Mount for Uwatec Digital Bottom Timers * Modified for Aladin Tec/Tec 2G/Prime 
There may be other computers that fit in these mounts, but without samples to test we cannot guarantee they will work.

If your computer doesn't look like the units pictured, or is not on the list above it is unknown if it will work.