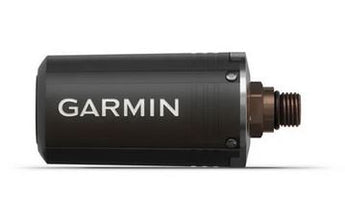 Garmin Descent T1 Transmitter
SDD: 10656
MPN: 010-12811-00
Regular price $399.99 Sale
Track your every breath when you pair the Descent™ T1 transmitter with a Descent dive computer. Monitor up to 5 tanks via SubWave™ sonar technology so you can dive with multiple tanks or see your buddy's air levels [additional transmitters required].
The Descent T1 enables you to monitor tank pressure, remaining air time and air consumption rate for multiple types of diving.
Physical Dimensions: 3.33" x 1.44" x 1.44" (84.50 x 36.52 x 36.52 mm)
Battery: 3 V CR123A lithium
Battery life: Up to 100 hours
Thread type: 7/16 in. (20 UNF)
Normal operating temperature: From -20 to 60°C (from -4 to 140°F)
Underwater operating temperature: From 0 to 40°C (from 32 to 104°F)
Storage temperature: From -30 to 70°C (from -22 to 158°F)
Wireless frequency: 2.4 GHz @ 0 dBm
Surface transmission range (ANT wireless technology): Up to 10 m (33 ft.)
Underwater transmission range (sonar): Up to 10 m (33 ft.)
Water rating: Dive 110 meters
Pressure rating: 300 bar (4351 psi)
Inspection interval: Inspect parts before each use for damage. Replace parts as needed.