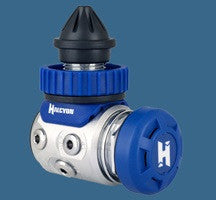 Halcyon H-50D First Stage
SDD: 4578
MPN: 65.100.150
Regular price $299.00 $202.50 Sale
The H-50D is a high performance diaphragm design, that is fully sealed and purpose-built for harsh conditions, like ice or environmentally contaminated environments. Diaphragm first stages are historically popular with cold water divers, and the H-50D was engineered for extreme conditions. Go dive extraordinary places with your H-50D, and be confident that you have a rugged regulator that will meet all your demands.
    Balanced, environmentally sealed diaphragm provides better performance in cold water than any other diaphragm regulator, while supplying consistent performance at varying tank pressures and depths. You will enjoy smooth, easy breathing throughout your dive. The dry, balance chamber, diaphragm design prevents the entry of water into the first stage mechanism, and enhances a trouble-free operation. This is true, even in the coldest conditions.
    Two opposing high pressure ports allow you to choose where to route your SPG, and allows the use of accessories. Most Halcyon diver's route their pressure gauge to the left, but the Halcyon H-50D allows flexibility with any configuration you choose. These options provide freedom to support personalized and advanced hose routing configurations.
    Four low pressure ports allow you to customize your hose routing for comfort and convenience. The H-50D features four stationary low pressure ports, with high flow options, ensuring the best air delivery with up to 15% more air than other LP ports. For maximum freedom, try the H-75P with its 360 degree swivel turret.
    300 Bar DIN first stage is the most secure connection available. Our DIN fittings are compatible with a wide range of yoke conversion kits.
    Nitrox 40% compatible right out of the box, so you can start diving without any additional concerns. Assemble your system, analyze your gas, and go diving. Oxygen clean upgrade kits are not available for the H-50D, because it is not recommended to use 100% oxygen with a diaphragm first stage design. Please consider the H-75P with Oxygen Upgrade Kit if you require 100% oxygen service.
    Externally adjustable intermediate pressure allows a quick fine-tuning by a Halcyon service technician, without fully disassembling the first stage.