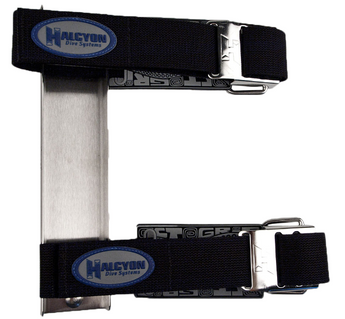 Halcyon Single Tank Adapter with Straps
SDD: 1770
MPN: 10.011.000
Regular price $198.00 Sale
The convertible stainless steel single tank adapter allows for secure mounting of a single tank. Includes straps with Super Cam Buckles (no weight).
Attaches securely to Halcyon Eclipse BC Systems
Not included--Available accessories:
Epoxy-coated 6-lb. (2.7 kg) weight -- The optional Halcyon weighted single-tank adapter places an additional six pounds between the backplate and single cylinder, removing weight from your waist. The weight is easily removed during travel or when less weight is required.