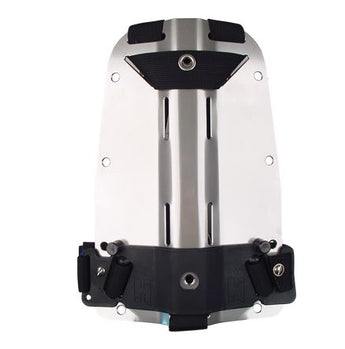 Halcyon Stainless Steel Backplate with Cinch Harness
SDD: 4786
MPN: 10.510.102
Regular price $467.00 Sale
The Halcyon Quick-adjust harness sets a new standard in recreational and technical BC systems. The Cinch (patent pending) can be used with single or double tanks, and allows easy harness adjustability, while avoiding "quick-release" buckles and dangling webbing. Simply push or pull the webbing, and your size adjustment is complete. This quick, easy-fit system allows divers to size a snug harness without compromising easy removability. It is also ideal for student training and rental departments, or for divers that wear suits of varying thicknesses. The system is easily adjustable in or out of the water, making it ideal for convenient, in-water equipment removal. The Cinch is also very effective during emergency situations.
Key Components of the Cinch Quick-adjust Harness
Cinch Quick-adjust harness - infinite adjustability with a simple push or pull of the webbing
Available in standard and small sizes to fit our stainless steel or aluminum Halcyon backplates
Can be used with single or double tank BC Systems
Seamless use with Halcyon ACB weight pockets, canister light and hip D-ring
As with most Halcyon products, an immense amount of behind-the-scenes work is required to create a plate that we are proud to sell. Halcyon backplates have been refined over the years, to provide the highest-quality finish and materials available. Small details, like the unique bends near the bottom of the plate, create an ergonomic curve, increasing diver comfort. Meanwhile, our precise fabrication process ensures the quality you have come to expect from Halcyon. Each Halcyon backplate is cut from the highest quality stainless steel, and sophisticated CNC machines mill every edge. This detailed process eliminates the sharp edges common with competitors' plates. Machine polishing is augmented by individual handwork, perfecting both form and function.
 Key Features of the Halcyon Backplate
Constructed from high-grade, polished stainless steel or hard-coat aluminum
Carefully milled surfaces eliminate sharp edges
Available in two sizes, both are compatible with any Halcyon BC component
Standard: 6-lb. (2.7kg) stainless steel or lighter weight 2-lb. (.9kg) aluminum
Standard-size plates are 15.5" X 10.25" (39.3cm x 26cm)
Small: 5-lb. (2.26kg) stainless steel or 1.8 lb. aluminum
Small plate measure 14" x 9.25" (35.5 cm x 23.5cm)
Utility holes allow mating with Storage Pak to stow a variety of lift devices as well as the small Halcyon dry suit inflation kit
The Halcyon Secure Harness provides an infinitely adjustable fit, eliminating the uncomfortable movement found in conventional jacket‰ buoyancy compensators. This perfectly tailored fit means that divers of all sizes can enjoy a custom diving configuration that supports unparalleled stability and diving comfort. Moreover, this unique system is easily convertible, allowing one to adjust buoyancy or quickly switch from singles to doubles. Regardless of your future aspirations, this flexibility means your diving system can grow with you. From your first open-water dive to your 100th deep dive, Halcyon is with you all the way.
Key Features of the Secure Harness
Secure, continuous webbing provides a custom fit; eliminates unwanted tank movement
Pre-bent shoulder D-rings facilitate quick storage of accessories from Scout lights to stage bottles
Complete adjustability of D-rings eliminates inappropriate attachment points
EPDM elastic bands help secure accessories
Stainless Steel waist buckle
Adjustable crotch strap enhances stability, nearly eliminating unwanted tank movement
Halcyon Backplate & Harness comes standard with Blue H Webbing. It can also be special ordered with your choice of H colors: Yellow, Pink, Grey. Please allow extra time for delivery of special order items.