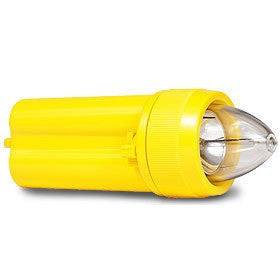 Ikelite Mini C-Mark Light Strobe
SDD: 1643
MPN: 1064
Regular price $84.95 Sale
Ikelite Mini C-Mark Light Strobe
Size: 3" dia x 8" (7cm x 20cm)
Batteries: 2 alkaline "C" cells
Fastest Cycle: 70 flashes per minute (approximately 8 hours)
Slowest Cycle: 10 flashes per minute (approximately 20 hours)
Weight in air: 15.2 oz (431g)
Depth rating: 300 feet (90m)

The Mini C-Mark is back by popular demand! Loved by many throughout the years for its reputation for being virtually indestructible and trouble free.

Signal Type Blinking Strobe:
The Mini-C Mark is an ideal location marker or emergency beacon specifically designed for night and limited visibility use. Emits brilliant flashes of light visible for several miles at the surface. Intensity is brighter than most signal strobes.

Adjustable Flash Rate:
The flash rate is adjustable in a continuous range between 10 and 70 flashes per minute. Uses two C-Cell alkaline batteries (not included) and runs 8 to 20 continuous hours, depending on the flash rate selected.

Floats Flasher Up:
The Mini C-Mark can be secured to an anchor line, clipped to you or your equipment using the attached stainless steel belt clip.

Durable Design:
The bright yellow body provides visibility even in poor conditions. The Mini-C Mark features a unique folding switch to assure against accidentally being turned-on. The lens is secured by a screw-on cap that is guaranteed unbreakable.

Flashlight Conversion:
The Mini C-Mark can be converted to our famous Mini-C flashlight by purchasing the #9073.1 module with bulb.