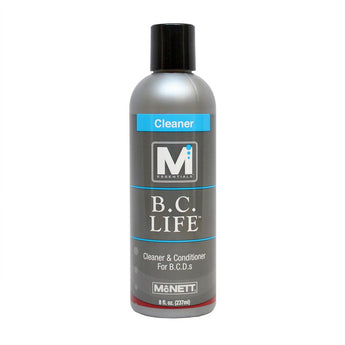 McNett BC Life
SDD: 1947
MPN: 34118
The more you dive, the more your buoyancy compensator device— or BCD—is exposed to salt, chlorine and organic compounds that can damage it, inside and out.
Now M Essentials makes it quick and easy to clean and condition all types of BCDs with BC Life Cleaner & Conditioner. This complete and balanced maintenance system effectively removes salt and chlorine crystals from the inside of the bladder and breaks down salt and chlorine on the outside, too. With its silicone conditioning formula, BC Life extends the life of all BCD parts, from rubber fittings and valves to the shell. It's safe to use on all dive equipment and scuba gear.
Regular BCD cleaning and conditioning is important. And with BC Life Cleaner & Conditioner from M Essentials, it's easier than ever to keep dive gear cleaner and make it last longer.
Cleaning and maintenance system for all types of buoyancy compensator devices
Removes salt and chlorine crystals from BCDs
Silicone conditioners leave plastic and rubber parts conditioned
Safe to use on all dive equipment and scuba gear
Kills bacteria
Made in USA