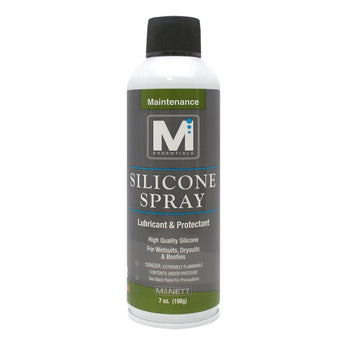 McNett Silicone Spray
SDD: 7202
MPN: 20410
7 oz. spray
Silicone Spray by M Essentials is the only silicone lubricant you need. Just spray it on your dive equipment to protect it from the harmful effects of saltwater. Our food-grade silicone formula preserves rubber gaskets and neoprene, to make expensive dive gear last longer.
Use as an O-ring lubricant, a rubber conditioner, and a wetsuit lubricant, too. Spray your wetsuit with Silicone Spray, and you'll slide right in without any hassle.
Lubricate sensitive rubber parts and protect neoprene dive equipment from salt, corrosion and oxidation, with M Essentials Silicone Spray.
High quality silicone spray
Lubricates sensitive rubber parts
Protects against rust, salt, oxidation and corrosion
Conditions neoprene and rubber
Food-grade silicone formula
Contains no ozone-depleting C.F.C.s
7 oz. bottle with ergonomic sprayer
Made in USA