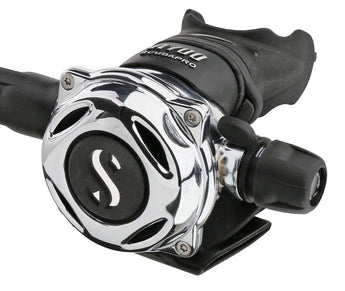 SCUBAPRO A700 Second Stage
SDD: 250
MPN: 11.700.000
Regular price $759.00 Sale
The A700 offers extraordinary breathing performance in a precision-handcrafted, full-metal package. Built for demanding divers and demanding conditions, with this reg system you can always be confident of your next breath. Ideal for cave and wreck diving too.
 Air balanced second stage valve smoothes out the inhalation effort at varying depths and supply pressures.
Rugged full metal second stage case and valve housing (barrel) are able to withstand years of aggressive diving.
Metal second stage case construction enables the use of a larger diaphragm inside a compact casing, increasing breathing sensitivity.
Sectional exhaust tee and a first-rate purge help to deliver effortless inhalation and an ease of exhalation that is unmatched.
User controls include a diver-adjustable inhalation effort knob and coaxial Venturi-Initiated Vacuum Assist (VIVA) switch.