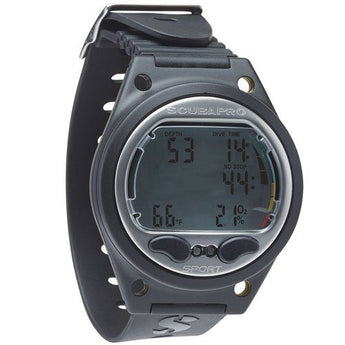 SCUBAPRO Aladin Sport Wrist Computer
SDD: 7089
MPN: 05.042.110
Regular price $339.00 Sale
A compact and intuitive dive computer.
• Nitrox compatible 21-50% in 1% increments.
• Three modes: Deco, Freediving and Gauge.
• 12 and 24 hour mode.
• Automatc safety stop with user adjustable timer.
• Full watch functions.
• Adjustable ppO2 between 1.0 and 1.6bar.
• Maximum operating depth: 394ft/120m.
• Back light.
• Visual and audible alarms.
• Dive/Freediving logs can be stored and analyzed with a PC/
Mac via infrared technology.
• CR2450 user replaceable battery rated for two years/300
dives.