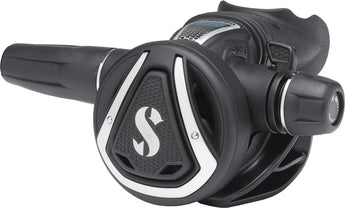 SCUBAPRO C350 Second Stage
SDD: 7649
MPN: 11.350.000
Regular price $253.00 Sale
The C350 is the most compact second stage in SCUBAPRO's line, so takes up little space in a travel bag. It breathes smooth and easy, and offers an inhalation effort control knob and a Venturi-Initiated Vacuum Assist (VIVA) dive/pre-dive switch.
Compact body and exhaust tee take up little space in a travel dive bag.
Stainless steel frame on the front cover and inhalation control knob.
Optimal Flow Design incorporates a special barrel and poppet valve to produce maximum airflow under any diving conditions.
User controls include a diver-adjustable inhalation effort knob and Venturi-Initiated Vacuum Assist (VIVA).
Large purge button is easy to activate, even wearing thick gloves.
Super-flow hose features an oversized bore that allows more air to flow on each inhalation.
Ultra-comfortable orthodontic mouthpiece is easy to grip yet doesn't inhibit airflow.
Weight (without mouthpiece): 6.2oz/176g.
Airflow at 2900psi/200bar: 1550 l/min - 55 SCFM.