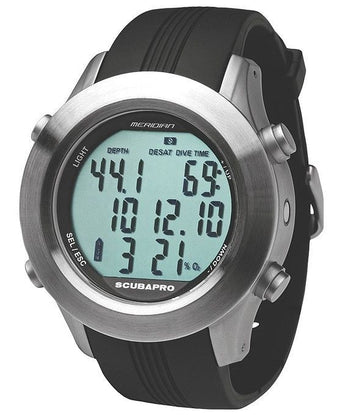 SCUBAPRO Meridan Wrist Computer
SDD: 4153
MPN: 05.060.100
Regular price $479.00 $335.30 Sale
ScubaPro Meridian wrist computer
Product highlights:
It's a watch and a full function dive computer
Digital depth gauge
Apnea free dive mode
Automatic altitude adjustment to 13,300 feet / 4050 meters
Use Meridian as a multifunction wrist watch, dive in SCUBA, APNEA or GAUGE modes. Displays are visually clear and easy to navigate. An intuitive +/- push of a button leads you to more advanced information and data. Housing in highest marine grade 316L stainless steel with two-toned brushed finishing, for heavy duty longevity with designer looks.
ZHL8 ADT MB algorithm - Predictive Multi-Gas (PMG)
PDIS (Profile Dependent Intermediate Stops) -- All SCUBAPRO computers allow enriched air (Nitrox) use from 21% to 100%. The ppO2 is adjustable between 1 and 1.6.
Gauge mode - Apnea mode - Bookmark function - Easily replaceable battery - Active back light, with push on and push off function
For safer diving-travel planning, an altimeter accurately measures altitude and alerts the diver when approaching an altitude incompatible with saturation status due to a recent dive
Heart rate monitor senses your effort, incorporates it into the workload calculation and then adapts the decompression algorithm. With APNEA mode this function features a specific low HR alarm.
Full watch functions (date and time in 12 or 24 hour notation, stop-watch underwater and on the surface, built-in thermometer, altimeter for mountain treks, UTC setting, wake-up alarm, silent mode, battery status display.
Maximum depth rate: 120m.
See the optional download cradle, part # SDD: 4182 MPN: 05.060.001
Related products