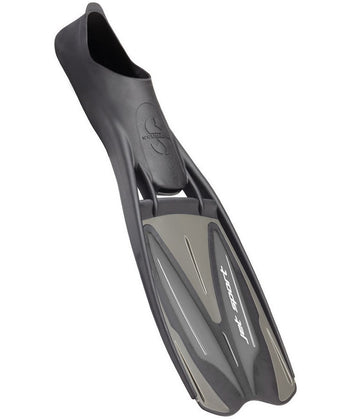 SCUBAPRO Jet Sport Full Foot Fin
SDD: 7101
MPN: 25.883.200
Regular price $78.00 Sale
A full foot version of the powerful Jet Sport Adjustable, the JET SPORT FULL FOOT is lightweight yet delivers lots of propulsion, excellent maneuverability, plus it feels oh-so-comfy on bare feet.
The JET SPORT FULL FOOT's big, slightly stiff blade is a tri-material design featuring a pair of soft rubber panels framed in semi-stiff plastic and flanked by thin side rails, producing just the right amount of flex. There are also drag-reducing vents between the blade and foot pocket to decrease resistance on both up and down strokes. This combination generates propulsive kicking power, provides good stability and makes efficient work of frog and dolphin kicks. The fin is easy to maneuver too -- very responsive in turns and at backing you out of tight spots.
The rubber full foot pocket molds comfortably to your foot. Underneath, an effective non-skid pattern does a good job of keeping your feet underneath you when moving around on wet decks.
The JET SPORT FULL FOOT is a perfect choice for any warm-water diver looking for solid kicking power in a more traditional blade fin that's ultra-light and sports a super-soft foot pocket. It's your ticket to kicking comfort and performance at a price that won't bust your budget.
Technical Information
    Three-material blade construction optimizes flex to maximize kicking performance.
    Drag reducing vents substantially decrease resistance on both up and down strokes.
    Big blade generates a powerful response in the water and improves stability and maneuverability.
    Ergonomic full foot pocket molds to your entire foot for total comfort during long dives.
    Effective non-skid pattern protects against slips on wet surfaces.