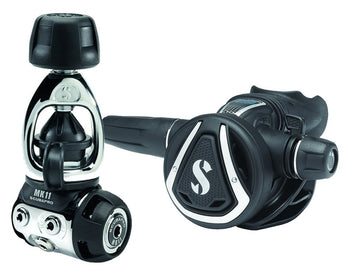 SCUBAPRO MK11/C350
SDD: 7659
MPN: 12.174.000
Regular price $429.00 Sale
The MK11/C350 is a great choice for dive-trekkers. The balanced diaphragm MK11, with its chrome-plated brass body specially designed to reduce size and weight, is an ideal travel companion. Its system features internal parts that are sealed from the elements. The C350 is the most compact second stage in SCUBAPRO's line, so takes up little space in a travel bag. It breathes smooth and easy, offers a coaxial-flow inhalation effort control knob and a Venturi-Initiated Vacuum Assist (VIVA) dive/pre-dive switch. With this system in your dive bag you'll be ready to hit the road.

First Stage:
• Air-balanced diaphragm design delivers constant and
effortless airflow unaffected by depth, tank pressure, or
breathing rate.
• Marine grade brass body has sealed internal parts to prevent
water and pollutants from fouling the inner mechanism
while enhancing cold-water performance.
• Two high pressure ports, two standard low pressure ports
and two high-flow low pressure ports maximize hose routing
options.
• External intermediate pressure adjustment enables technicians
to fine-tune performance quickly and easily.
• Available in 3364psi/232bar INT.
• Weight: INT 232 (oz/g): 25.0/710.
• Airflow at 2900psi/200bar: (l/min/SCFM): >5500/195.
• Intermediate pressure (psi/bar): 133-142/9.2-9.8.

Second Stage:
• Compact body and exhaust tee take up little space in a
travel dive bag.
• Stainless steel frame on the front cover adds some style.
• Optimal Flow Design incorporates a special barrel and
poppet valve to produce maximum airflow under any diving
conditions.
• User controls include a diver-adjustable inhalation effort
knob and Venturi-Initiated Vacuum Assist (VIVA).
• Large purge button is easy to activate, even wearing thick
gloves.
• Super-flow hose features an oversized bore that allows
more air to flow on each inhalation.
• Ultra-comfortable orthodontic mouthpiece is easy to grip
yet doesn't inhibit airflow.
• Weight (without mouthpiece): 6.2oz/176g.
• Airflow at 2900psi/200bar: 1550 l/min - 55 SCFM.