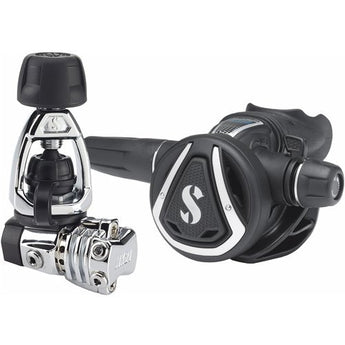 SCUBAPRO MK21/C350 - Yoke
SDD: 6921
MPN: 12.978.000
Regular price $493.00 Sale
SCUBAPRO's compact piston first stage has been teamed up with a compact, high performance second stage.  The MK21 is about 20% smaller than SCUBAPRO's flagship MK25 but benefits from the same core technology.  The C350 is the most compact second stage in SCUBAPRO's line.  It is lightweight, breathes easy, offers full user controls, and delivers effortless airflow.  It's the perfect combination for divers looking for high performance in a travel-friendly system.
MK 21 First Stage:
Air-balanced flow-through piston provides constant and effortless airflow unaffected by depth, tank pressure, or breathing rate.
Polished chrome-plated marine grade brass body is close to 20% smaller than the MK25, making it an easy travel companion.
Unique thermal exchange design with external fins optimizes freezing resistance.
Two high pressure ports, one on each side of the body, allow the first stage to be positioned either up or down.
Standard 'smart' hose routing cap offers four low pressure ports angled for more convenient hose routing (+/- 20º).
Optional hose routing cap increases routing configurations with four angled low pressure ports (0°/30°) plus a fifth centralized high-flow low pressure port, ideal for technical diving.
Redesigned yoke allows for easier mounting on a cylinder, and redesigned cap protects internal components from water intrusion after the dive.

C350 Second Stage:
Compact body and exhaust tee take up little space in a travel dive bag.
Stainless steel frame on the front cover adds some style to the compact design.
Classic downstream valve design.
User controls include a coaxial-flow diver-adjustable inhalation effort knob and Venturi-Initiated Vacuum Assist (VIVA).
New dive/pre-dive switch clip makes the assembly more reliable than ever.
Large purge button is easy to activate, even wearing thick gloves.
Holes below the purge button increase water circulation on the diaphragm to improve sensitivity.
Super-flow hose features an oversized bore that allows more air to flow on each inhalation.
Ultra-comfortable orthodontic mouthpiece is easy to grip yet doesn't inhibit airflow.