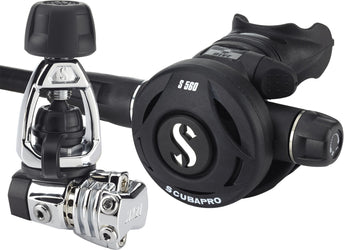 SCUBAPRO MK21/S560 - Yoke
SDD: 5897
MPN: 12.974.000
Regular price $719.00 Sale
AN EXCELLENT MID-RANGE REG SYSTEM

Lightweight and compact, this versatile breather offers superb performance and value - plus a whole lot more.

The compact and lightweight MK21/S560 is a full-featured reg combo that's easy to use, offers SCUBAPRO reliability and is priced right, making it the ideal mid-range system for a variety of diving scenarios.

The MK21 is SCUBAPRO's most compact balanced-piston first stage. Smaller and lighter than the MK25, it uses a smaller piston but it delivers the same level of breathing performance, no matter how hard you're breathing, how deep you're diving or what your pressure gauge reads. The MK21 also provides exceptional resistance to freezing due to the thermal exchange produced by the external fins on its polished chrome brass body.

The MK21's innovative "smart" hose layout comes with a standard cap with four low pressure ports angled (+/- 20º) to maximize hose routing. This standard cap can be replaced with an optional cap that offers four low pressure ports at more extreme angles (0°/30°) plus a fifth centralized high-flow low pressure port -- a useful configuration for technical diving.

The air balanced S560 second stage features a lightweight techno-polymer casing and comes with full user controls, including an inhalation effort adjustment knob and a Venturi-Initiated Vacuum Assist (VIVA) dive/pre-dive switch. It can be counted on to breathe dry and easy, regardless of depth or your position in the water.

The MK21/S560's size and weight make it an excellent choice for travel divers, its innovative fin design makes it a good cold-water performer, its "smart" hose layout is well-suited for some technical applications, and its overall ease of use, reliability and price make it the must-have reg system for recreational divers of all skill levels.
MK21 First Stage:
Air-balanced flow-through piston provides constant and effortless airflow unaffected by depth, tank pressure, or breathing rate.
Polished chrome plated marine grade brass body is close to 20 percent smaller than the MK25, making it an easy travel companion.
Unique thermal exchange design with external fins optimizes freezing resistance.
Two high pressure ports, one on each side of the body, allows the first stage to be positioned either up or down.
Standard "smart" hose routing cap offers four low pressure ports angled for more convenient hose routing (+/- 20º).
Optional hose routing cap increases routing configurations with four angled low pressure ports  (0°/30°) plus a fifth centralized high-flow low pressure port, ideal for technical diving.
Redesigned yoke allows for easier mounting on a cylinder, and redesigned cap protects internal components from water intrusion after the dive.
Available in either 3364psi/232bar INT or 4350psi/300bar DIN configurations.
Weight: INT 232 (oz/g): 27.5/780; DIN 300 (oz/g): 19.7/560.
Airflow at 2900psi/200bar: (l/min/SCFM): >7500/265.
Intermediate pressure (psi/bar): 133-142/9.2-9.8.
 S560 Second Stage:
Air-balanced valve smoothes out the inhalation effort when diving at varying depths and supply pressures.
Lightweight techno-polymer casing helps reduce jaw fatigue and improve diving comfort.
Technopolymer inlet tube contributes to reliability and long life.
High flow exhaust valve reduces exhalation effort to lower overall work of breathing.
User controls include a diver-adjustable inhalation effort knob and Venturi-Initiated Vacuum Assist (VIVA) dive/pre-dive switch.
Super-flow hose features an oversized bore (larger inside hose diameter) that allows more air to flow on each inhalation.
Ultra-comfortable orthodontic mouthpiece is easy to grip yet doesn't inhibit airflow.
Weight (without mouthpiece): 5.6oz/160g.
Airflow at 2900psi/200bar: 1850 l/min - 66 SCFM.