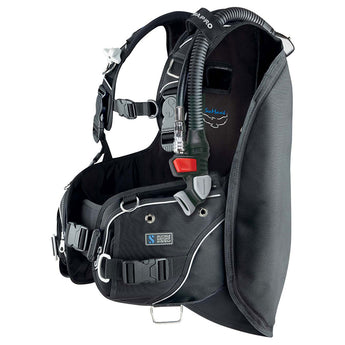 SCUBAPRO Seahawk BCD
SDD: 380
MPN: 22.140.310
Regular price $656.00 Sale
The SEAHAWK is a streamlined back-flotation BCD that enables you to enjoy total freedom when cruising the depths. As comfortable as can be, a contoured hard pack and single-band Super Cinch tank buckle let you lock the tank down solid, creating a very stable ride. Features include outstanding buoyant lift, lots of stainless steel D-rings for clipping on gear and a quick-ditch integrated weight system. You also get a pair of large zippered cargo pockets for carrying accessories, something you don't often see on BCDs of this design. Well-suited for cold or temperate water diving as well as the tropics, back-flotation divers who want freedom of movement, lots of buoyant lift, plus ample gear storage, will find the SEAHAWK the perfect choice.
Positioning the air cell behind you creates exceptional freedom of movement while reducing bulk. This decreases drag, making finning through the water column that much easier.

Constructed of 1000 denier nylon and 420 denier nylon for maximum durability.

Ergonomic harness incorporates anatomically shaped components to even out the load distribution.

Contoured hard pack and single-band Super Cinch buckle let you securely lock down the tank.

Rotating quick-release shoulder buckles allow you to optimize the routing of your shoulder straps to maximize fit.

Soft neoprene neck roll and padded back pad enhance comfort during long dives.

Padded cummerbund compensates for suit compression, maintaining a snug fit at varying depths.

Quick-release integrated weight pouches secure with low-profile buckles.

Two rear trim pouches help create a comfortable swimming position.

Two large zippered pockets with knife attachment grommets provide lots of cargo-carrying capability.

Four large pre-bent stainless steel D-rings, along with two smaller stainless D-rings, provide lots of clip-on points for additional gear.

BC comes equipped with a Balanced Power Inflator or AIR2.
| | |
| --- | --- |
| BCD Type | Back-Inflated |
| Lift Capacity | 54 lbs |
| Lift Capacity | 24.4 kg |
| Lift Capacity | 240 |
| Weight Integrated | Yes |
| Number of Pockets | 2 |
| Number of D-Rings | 6 |
| Weight | 7.89255 lb | 3.58 kg |
| Back Trim Pockets | 2 |
| Pocket Type | Zippered Closure |