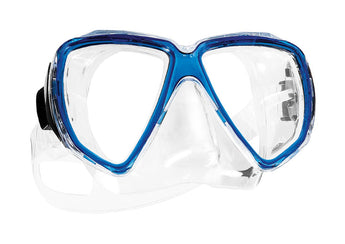 SCUBAPRO Snorkel Pro Damselfish Adult Mask, Blue
SDD: 3991
MPN: 94.074.200
Regular price $20.00 Sale
The comfortable way to view vibrant underwater scenery.

The DAMSELFISH provides a watertight and comfortable view of the vibrant underwater scenery when snorkeling shallow-water reefs.

This stylish dual lens mask features teardrop-shaped lenses for an excellent vertical field of view. The clear silicone is soft, and the quick-release buckles allow for a wide range of adjustment.