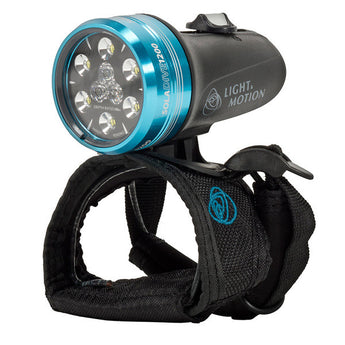 Light & Motion Sola Dive Light 1200
SDD: 3627
MPN: 850-0144-A
Regular price $599.00 Sale
Light & Motion Dive Light - 1200 Lumens
With powerful spot and flood beams, each with three power settings, the compact SOLA 1200 Dive Light offers outstanding performance. Power is supplied by a built-in lithium-ion battery, with battery status displayed by colored LED indicator lights for easy monitoring of battery status. Output ranges from an honest 125 lumens up to 500 lumens for the spot beam and 250 lumens up to 1,200 lumens for the flood beam.
Usage is made easy by the convenient hook and loop padded wrist strap and the magnetic switch that you slide backward for beam selection, and forward to choose a power level. Holding the switch in either position turns off the light, and rotating it 180 degrees locks it in the off position for stowage or travel.
Engineered with the highest level CREE LEDs and optimized firmware. Custom engineered reflector optimizes the light to provide the most efficient and effective distribution for land-based and underwater needs.
Regarding lumens output: When comparing this light to others on the market, bear in mind that the manufacturer (Light and Motion) is one of the the first lighting companies to test and certify their lights in accordance with the ANSI/NEMA FL-1 standard. Using an integrating sphere, the actual lumen or light output and run-time is precisely measured and certified. No more guessing!
Package includes: Hand Strap, 2 Amp Charger and Zippered Bag.
Specifications:
Beam Strength: (For 60° Flood/12° Spot) High: 1200/500 lumens; Medium: 600/250 lumens; Low: 300/125 lumens
Power Source: Rechargeable Li-ion battery
Charger: 2A charger included
Charge Time: 2.5 hrs.
Run Time Range: High: 70 minutes; Medium: 140 minutes; Low: 280 minutes
Modes: Three (60°/12°) + SOS
Mounts: Includes hook and loop hand strap; Optional Pistol Grip, T-Handle and Kirby Morgan Helmet Mount
Dimensions: 4"L x 2 1/8"W x 2 1/8"H
Case Material: Plastic case with anodized aluminum bezel
Waterproof: FL-1 certified to 100m
Weight: 254g
Warranty: Two years