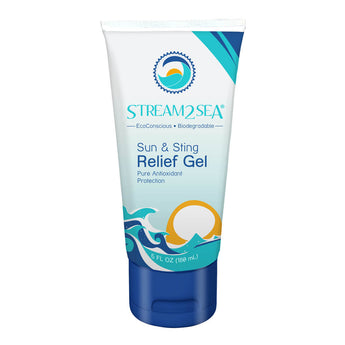 Stream2Sea Sun & Sting Relief Gel
SDD: 8034
MPN: SUSG-6
Regular price $12.95 Sale
Soothe your skin following sun exposure, insect bites or underwater stings with our Sun and Sting Relief Gel made with our potent antioxidant blend of Green Tea, Tulsi, Wakame, and Olive Leaf.
Aloe and Green Tea speed skin restoration
Powerful blend of essential oils and enzymes quickly cools skin for fast relief of sunburned and stressed skin
Greaseless and fast absorbing gel
6 oz
 STAFF NOTE
Stingrays are a local inhabitant here in San Diego, and you'll often hear, "do the stingray shuffle!"  On busy summer days, there are usually a few people in front of the lifeguard tower soaking their feet.  If you are stung by a ray, soak the affected area in water as hot as you can tolerate without injury for about 90 minutes.