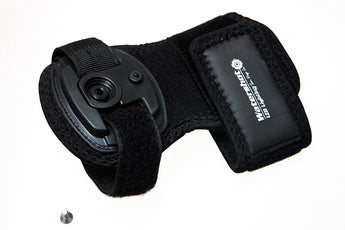 Watershot Goodman Soft Handle Extended Mount
SDD: 7802
MPN: WSLED-K047A
Regular price $39.00 Sale
Watershot extended soft hand mount
Extended version of the Watershot STRYKR Hand Mount Kit. It is designed to free your hands while providing light where you need it most. The STRYKR Light Heads mount to a secure plastic plate using a single screw. High quality velcro and neoprene ensure that the light is held securely and comfortably on the back of the hand. This extended version has a 5" longer wrist strap and 3" longer hand strap....great for use with dry-suit gloves.
Hand and Wrist strap are 16" long
Neoprene strap with light head mounting platform
M4 screw for attaching light head
All Watershot products are closeout and final.