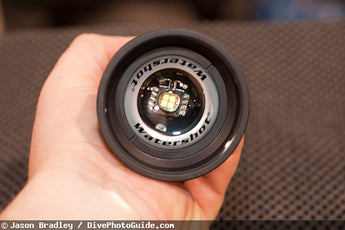 Watershot STRYKR 1000 Video Light Head
SDD: 8xxx
MPN: WSLED-K202A
Regular price $299.99 $149.95 Sale
The STRYKR 1000 light head features a high lumen output which can be adjusted to one of three power levels or constantly flashed in strobe mode. Resulting burn times are up to 24 hours of continuous light and 60 hours of strobe light if using the original 8-cell battery pack (sold separately).
700 Lumen Output 10 Watt LED Light
4 Light Modes (High, Medium, Low & Strobe)
Flood Reflector - even 75° flood beam pattern
From DivePhotoGuide.com:
"Watershot also expanded their lighting lineup with the two new models, both built off the 10 watt light from MCE that gives off around 700 lumens."
All Watershot products are closeout and final.
Staff note: this light head has a crisply bordered light output with even lighting. It is bulkier and weighs more than the single light heads or the 1800-series double light heads.  Watershot light heads can be mounted with M4 screws with a 0.7mm coarse pitch, although you may need to work a sacrificial screw through your aluminum handle to get it to fit.