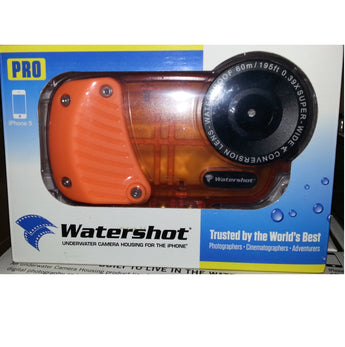 Watershot Underwater PRO Housing Kit for iPhone 5 Orange
SDD: 7799
MPN: WSIP5-014
Regular price $189.99 Sale
60m/195', with lens
The Watershot® PRO Line Kit is an exceptionally robust, professional camera housing (with multiple lenses included) for the iPhone 5/5s (and 5c with additional conversion kit - WSIP5-007)).
The housing kit comes complete with two large removable lenses – a flat port and wide angle. The wide angle lens increases the field of view to 110 degrees. The depth rating is an impressive 195 FT / 60 M.

The iPhone is fully suspended within the housing ensuring the phone and screen are effectively shielded from wear, tear, shock and pressure. Download the free Watershot App, available at the App Store and on iTunes, designed to maximize camera functions from the basics to rapid fire, front and back camera use, GPS overlays and social media sharing while the phone is locked safely in the housing. A fourth button has been added to the housing for future app functions.
Dimensions: Length 6.7" x Width 3.7" x Depth 2.0" (17cm x 9.4cm x 5.0cm)
Weight: 0.8lbs
Injection molded polycarbonate housing
Two interchangable lenses - flat & 110 degree wide angle
Adjustable lanyard
Free App (available at the App Store)
Comes complete with two lenses - flat & 110 degree wide angle
Integrated universal tripod mount
Lens bezel for external filters and lenses
All Watershot products are closeout and final.
Related products